Image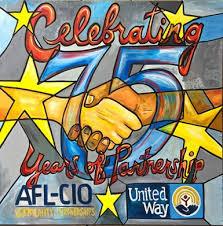 For more than 75 years, United Way has partnered with the American Federation of Labor and the Congress of Industrial Organizations. 
They first came together right after World War II, as an innovative way to rebuild our nation.  We looked different back then, but our shared passion for building a better world was evident from the start.  United Way (then Community Chest and Councils) and labor's umbrella organizations (the American Federation of Labor and the Congress of Industrial Organization's) worked together to create a mechanism for payroll deduction.  That resulted in labor representation on United Way boards and evolved into collaborative fundraising and community development.  Since then, unions have been strong partners in the workplace campaign, encouraging union members to give and volunteer.  Through their partnership, United Way and the labor movement continue to build stronger communities across America.  
We are grateful to work alongside individuals from our local organized labor unions. They are very involved in the Greater Lima Community and we would like to thank our local union leaders that serve on the United Way of Greater Lima's Board of Directors: 
Jeff Adams - UAW 1219
George Davis III – Lima Firefighters – IAFF Local 334 
April Braun – OEA- Ohio Education Association 
Jack Miller – Lima Building Trades
We are pleased to work with many local organized labor unions as they represent skilled workers from across all industries, including both public and private sectors. These unions bring a wide variety of expertise to our community and have the power to bring together community, government and businesses to create and promote access to good jobs.
AFSCME LOCAL 1002 

BOILERMAKERS LOCAL 85

BRICKLAYERS LOCAL 3

CARPENTERS LOCAL 372

IAFF LOCAL 334

IAFF LOCAL 686 

IAFF LOCAL 2550

IAFF Local 4539 

IBEW LOCAL 32 

INT'L ASSN. OF HEAT & FROST INSULATORS LOAL 41

IRONWORKERSW LOCAL 290

LABORERS LOCAL 329 (LIUNA) 

LIMA BUILDING TRADES 

MILLWRIGHT PILE DRIVERS LOCAL 1090

NALC LOCAL 105 

OHIO EDUCATION ASSOCIATION 

OPERATING ENGINEERS LOCAL 18

PAINTERS LOCAL 1020

PLASTERERS AND CEMENT MASONS' LOCAL 886

PLUMBERS & PIPEFITTERS LOCAL 776

ROOFERS LOCAL 75

SMART LOCAL 24

SPRINKLER FITTERS LOCAL 669

UAW CAP COUNCIL 

UAW LOCAL 211 

UAW LOCAL 975 

UAW LOCAL 1219 

UAW LOCAL 1327 

UAW LOCAL 1765 

UAW LOCAL 2075 

UAW LOCAL 2147 

UNITED BROTHERHOOD OF CARPENTERS & JOINERS OF AMERICA

USW LOCAL 624 

WEST CENTRAL OHIO AFL-CIO COUNCIL